Commander-in-Chief Biography
Commander-in-Chief (2022-2023)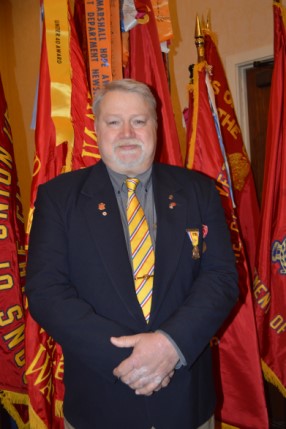 At the 141st National Encampment, the Sons of Union Veterans of the Civil War elected Bruce D. Frail, of Rhode Island, as the 136th Brother to hold the office of Commander-in-Chief.
Bruce was born in Providence, Rhode Island in 1961. He is the son of an Army Officer who was stationed all around the country and served for 41 years, this would be the reason why when Bruce graduated from William M. Davies High School in Lincoln, Rhode Island he joined the United States Marine Corps, he served as a Combat Engineer and earning an expert shooting badge in each of his years of service.
After the Marine Corps, Bruce was pinned between a forklift and a steel support column, breaking his back in three places. A long story but after almost four years of aqua therapy, electroshock and relaxation therapy, physical adjustments and pins Bruce was walking five miles a day and swimming without supports 2 miles every other day. No surgery and two years after that he passed the State of Rhode Island Firefighter challenge to become a firefighter.
Bruce has worked as a Volunteer/Call Fire-Fighter in the town of Coventry, RI and West Greenwich, RI
Bruce joined the Sons of Union Veterans of the Civil War in 2003. He is descended from Hugh Friel Sr. of Company E, 67th Pennsylvania Infantry. In 2006 with his second son Benjamin and three others founded Major Sullivan Ballou Camp #3, where he served as Camp Commander in 2007-08, he then served as Commander of the Department of Rhode Island from 2009 -2012.
In 2010, Bruce was invited by Retired Chief Justice Frank Williams to sit on the Advisory Council for the State of Rhode Island's Civil War Sesquicentennial Commemoration Commission and sat on the Commission's Archival Preservation Committee. He chaired the Rhode State Battle Flag Preservation Committee for this Commission from its start in 2011 thru 2014.
Bruce served as the Chairman of the National Committee for Graves Registration as well as National Graves Registration Officer, an office he has held since August 2009 until August of 2020. Bruce has moved up through the ranks and has just been elected Commander-In-Chief at the 141st National Encampment